PAUL ANKA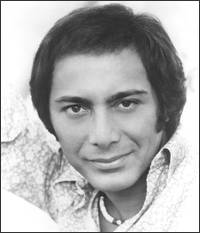 Paul Anka has been successful as a teenage singing star, a teen idol, a songwriter, an actor, and an entrepreneur.
As a performer he has placed songs in the top forty in four different decades.
He was born in Ottawa in 1941. He took an interest in music at an early age and began performing when he was 12.
His first recording, I Confess, was initially financed by his father. Paul went to Hollywood on vacation and
convinced some record company executives to record it, resulting in his first release, on RPM in 1956.
Eventually this led to his being signed to a contract by Don Costa at ABC. Paul had been infatuated with his
babysitter who was five years older than he was and had written a song for her called Diana. He recorded it for
ABC-Paramount and it entered the charts in July of 1957, where it remained for eighteen weeks. The song was a
worldwide megahit and replaced Debbie Reynolds' Tammy as the number one song on the charts. Suddenly Paul
Anka was a star. By 1961 sales of Diana would soar past the 9 million mark.
Paul Anka continued to write and record songs. His next big hit, in 1958, was You Are My Destiny which made the
top ten. His clean good looks and fresh image gave the world a teen idol who was an alternative to the likes of Elvis
Presley. But as things would turn out, Paul Anka was more than just a pretty face. He was also a very good
songwriter. Buddy Holly recorded a song that Paul had written, It Doesn't Matter Any More.
Paul recorded an inspirational spoken song called The Teen Commandments with two other stars on the
ABC-Paramount label, George Hamilton IV and Johnny Nash. Continuing to record songs that were arranged and
conducted by Don Costa, he had his second number one with Lonely Boy from the film Girl's Town and followed it
with one that reached number two, Put Your Head On My Shoulder.
As the new decade approached, the top ten hits for Paul Anka kept coming: It's Time To Cry, Puppy Love, and My
Home Town. He had a romance with teen star Annette Funicello, for whom he wrote the somewhat maudlin Puppy
Love. He continued to record, placing 7 songs in the top forty in 1961 and 1962, the most successful of which was
Dance On Little Girl. Paul appeared in some movies, the most notable being The Longest Day in 1962, for which
he wrote the title song.
Things began to change, but his successful career kept going. ABC-Paramount was bringing in newer stars, and
Paul left and signed with RCA in 1962. A shrewd businessman, Paul was sharp enough to buy his own masters and
they have been reissued from time to time since then. He wrote Johnny's Theme for Johnny Carson to use on The
Tonight Show. In 1968 he took a song by French singer/songwriter Claude Francois' and translated it and re-wrote
it for Frank Sinatra, calling it My Way. He followed up with She's A Lady, a song that he wrote for singer Tom
Jones.
Paul Anka was one of the original teen idols, and others who came along in the 70's who fit the same mold such as
David Cassidy and Donny Osmond used some of Paul's old songs in their own recording careers. Paul teamed with
singer Odia Coates in the 70's and came up with some memorable records in Muscle Shoals on the United Artists
label in the mid-70's, including the number one [You're] Having My Baby, One Man Woman/One Woman Man, and
I Don't Like To Sleep Alone, all of which were top ten records. He also did well on his own in the 70's, with hits
such as the top ten Times Of Your Life. His last record to reach the top forty is Hold Me 'Til The Mornin' Comes,
in 1983.
Paul Anka is admired and respected in the recording industry. His long and illustrious career continues.