BIG BOPPER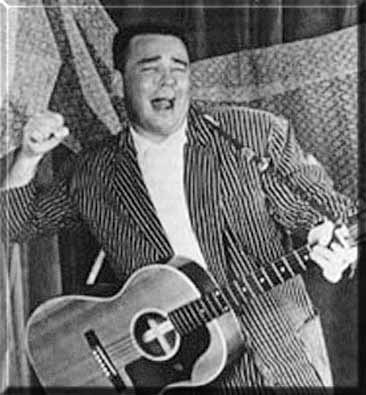 Born Jiles Perry Richardson, October 24, 1930 in Sabine Pass, Texas. His family moved to Port Arthur
when he was very young. He attended public schools, and played football in high school. Jape graduated at
Beaumont High School in 1949, While he was in college, he found a job at a radio station in Beaumont, Texas.
Jiles, or "Jape" as hepreferred to be called, married Adrian Joy Fryon on April 18, 1952. They would have a
daughter, Deborah. In 1957, while working as a deejay for KTRM in Beaumont, he coined the name "The Big Bopper"
a stage name he would use for the rest of his life.
In May of '57 he broadcast for six days straight, spinning 1,821 records and established a world record for
continuous broadcasting. Jape had been writing some songs, and was soon discovered by Harold "Pappy"
Daily. It was in 1957 when Jape recorded his most famous song, "Chantilly Lace", which became the 3rd most
played song of 1958. Throughout '58, Jape signed onto many tours to promote his record. His last tour being the Winter Dance Party of 1959. The tour was scheduled to play in remote locations throughout mid-west United States, and the mid-west was suffering a harsh winter. The bus provided to the musicians had engine problems and no heating system. For this last reason Jape had caught the flu. When the tour rolled into Clear Lake Iowa, Buddy Holly chartered a plane to fly his band to the next gig. Jape approached Buddy's bass player, Waylon Jennings, and asked for Jennings seat on the plane, so that Jape could get some rest and a doctors appointment. Waylon agreed and gave his seat to Jape, a decision that saved him, but killed the Bopper. Waylon would feel guilty for this for some time. The plane took off from Mason City Airport around 1:00 the morning of February 3rd, 1959, and crashed 8 miles after takeoff, killing Jape, Buddy Holly, Ritchie Valens, and the pilot Roger Peterson. At the time of his death, Jape was 28 years old.
His wife, Adrian, was pregnant with their second child. Jay P. Richardson would be born 84 days after his father's
death. Jape's body was flown back to Beaumont by private plane. After his funeral the streets were lined with fans
watching the long procession of cars moving to the cemetery.