BOBBY DARIN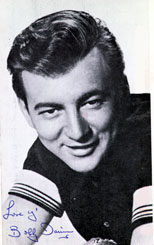 Entertainer Bobby Darin had style and class and a wide range of talents.Born Walden Robert Cassotto on May
14th, 1936, Darin rose from poor beginnings in Harlem. He also had a rheumatic heart which plagued him
throughout his life.As a result of these obstacles, he worked extremely hard to overcome them.Knowing his life
would not be a long one,his ambition to succeed was fueled by an over-whelming desire to make it big in show
business.
After graduating from the Bronx High School of Science and attending Hunter College,Darin started out, first as a
demo writer then as a demo singer at the Legendary Brill Building along with future stars Connie Francis and Don
Kirschner.In 1957, he recorded for Decca, but found fame at Atco records in 1958, with his first hit records "Splish
Splash" and "Dream Lover"( both of which he composed).
Bobby Darin then recorded the album "That's All",a Lp of standards, upon the advice of his press agent Harriet
Wasser.This Lp contained his signature song "Mack The Knife" ,which won the 1959 "Record Of The Year" and
Darin the "Best New Artist" Grammy."Mack The Knife" was number one on the Billboard charts for nine weeks
in 1959 and is one of the biggest selling records in history.Bobby Darin was the first young singer to bridge the
single record and album gap between the teenage and adult buying public.
Darin appeared in Las Vegas with his close friend Mr.George Burns in 1959, and began an exciting nightclub
career.Managed by Steve Blauner,Darin,at the young age of 23,performed at every major night club in the country,
such as the Flamingo in Las Vegas, the Cloisters in LA and the Copacabana in NY. Bobby not only sang, but did
impressions and played several instruments in his concerts.He was popular with adults and teenagers alike at the
clubs, breaking attendance records and had a personal magnetism which seemed to draw fans and adultation as a
magnet draws steel.He continued this part of his career up until August of 1973, when he was unable to continue
because of illness.
Bobby also appeared on many major television programs in the 1960s,showing his versitility in this field of
entertainment.He was on variety, comedy and drama programs.He hosted his own variety special in 1961 and at the
time was the youngest person ever to do so. Bobby Darin also had his own NBC variety television show in 1972 and
1973.
Not only was Darin a talented singer,actor and musician, he also was a gifted composer, writing many of his own
recordings. Among these include "Splish Splash","Dream Lover", "Things", "As Long As I'm Singin'","Be Mad
Little Girl","Eighteen Yellow Roses", "You're The Reason I'm Living", "If A Man Answers","Simple Song Of
Freedom","Somebody to Love","Treat My Baby Good","Two of a Kind (with Johnny Mercer), I'll Be There" and
"When I Get Home".Bobby Darin also composed the score and theme to four of the thirteen motion pictures he
acted in such as "Come September"(1961), If A Man Answers"(1962), "That Funny Feeling"(1965) and "Gunfight
In Abilene"(1967).He also wrote the score and music for the film "The Lively Set"(1964).
Bobby Darins singing career also included folk/country music. His recording of the single "If A Were A Carpenter"
opened up a whole new phase of his career. In 1968 and 1969, disturbed by the death of Senator Robert
Kennedy, whom he campaigned for,Darin wrote and recorded two protest albums of alternative rock music and
found a new legion of fans in this area. He was able to combine all of these types of music in the early 1970s in his
live performances with great success.
Darin was nominated for a Oscar for his outstanding performance in the film Captain Newman M.D." (1963).In
1962, he had made a total of five motion pictures and had contracts with Universal and Paramount studios. Bobby
Darin married actress Sandra Dee, who was his co-star in the film "Come September" on December 1st 1960 and
they had one son, Dodd Mitchell Darin, born on December 16th 1961.(Darin and Dee were divorced on March
7th,1967 and Bobby was also married to Legal secretary Andrea Joy Yeager in 1973.They divorced shortly before
his death.)
Bobby Darin worked very hard to make it to the top and was often quoted by the press as saying he wanted to be a
"legend by the time he was 25".His many devoted fans believe he achieved this goal in record time.Darin's life was
cut short on December 20th, 1973, when he died following heart surgury at the young age of 37. In 1990,Bobby was
inducted to the Rock and Roll Hall of Fame. He will never be forgotten and his legacy lives on.

Bobby Darin Lyrics
"Dream Lover" in Real Audio