CARL PERKINS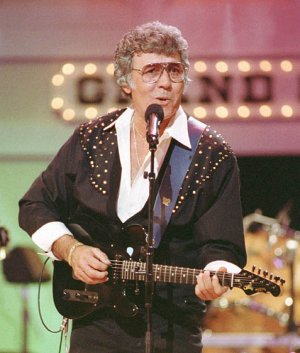 He was born Carl Lee Perkings near Tiptonville, Tennessee in 1932. Growing up in Tennessee with his brothers,
Jay B. and Clayton, Carl learned to play the guitar and became quite proficient at it. He listened to country music,
gospel, and blues, and began to write some of his own compositions. At age 13 he performed a song that he had
written, Movie Magg, at a local talent show and won. He formed a group with Jay and Clayton called the Perkins
Brothers which began to perform at a local honky tonk known as the El Rancho Club in 1947 and 1948. W. B.
Holland joined the group as a drummer. They appeared on WDXT radio in his hometown of Jackson, Tennessee
from 1950 to 1952. Meanwhile, Carl spent many years working during the day at Colonial Baking Company in
Jackson as a baker.
Carl signed a recording contract with Flip Records, a subsidiary of Sun in Memphis, in 1954. His first release was
Movie Magg the following year, and it was followed by other songs such as Gone, Gone, Gone, Let The Juke Box
Keep On Playing, and Blue Suede Shoes. The latter song, which Carl wrote after overhearing a remark made at a
local dance and recorded at Sun in December, 1955, was released on the Sun label and took off nationally. It
reached number two on the pop and country charts in 1956.
The song put 23-year old Carl Perkins in the national spotlight. Appearances were arranged on the Ed Sullivan and
Perry Como TV shows, but while traveling to New York for those engagements he was involved in a terrible
automobile accident that hospitalized him. Another up-and-coming Sun artist, Elvis Presley, covered Blue Suede
Shoes, which became Elvis' third top forty hit. These events served to steal some of the thunder from Carl Perkins'
rise, and Carl never quite recovered his momentum in the world of pop, although his place in music history was
assured.
Carl continued to record songs that were country hits, such as Dixie Fried, Boppin' The Blues, and Your True Love,
the latter two of which became minor pop hits. Always an excellent guitar player, he continued doing music in his
own style, which was pure rockabilly. The flip side of Blue Suede Shoes was Honey Don't, which had originally been
intended as the A-side. Honey Don't was discovered by the Beatles who covered it along with two more of Carl's
songs, Everybody's Trying To Be My Baby and Matchbox. Latter day pop artists who would acknowledge the
influence of Carl Perkins include Rick Nelson, John Fogerty, Bob Dylan, Eric Clapton, and Paul McCartney, who
said "If there were no Carl Perkins, there would be no Beatles."
Following the death of his brother Jay in 1958, Carl signed a deal with Columbia. Songs by country influenced
singers such as Buddy Knox and the Everly Brothers were crossing over to the pop charts. Carl had some more
minor pop hits with records such as Pink Pedal Pushers and Pointed Toe Shoes, but he eventually went back to
country music. He signed with the Dollie label in 1963 and joined his friend Johnny Cash's road show in 1965. He
was to stay with Cash for ten years, exhibiting his fine guitar-playing, performing solo at times, and occasionally
writing songs. Carl continued recording country songs into the 70's. His brother Clayton passed away in 1974.
In the mid-70's he appeared at the Wembley Festival in England and advertised his new album, Old Blue Suede
Shoes Is Back Again, on British television. He continued to record songs for various labels, including his own, the
appropriately named Suede. He worked with a five-man band that included his sons Stan and Gregg. He also
collaborated with other notable artists over the years, including his work on the album The Million Dollar Quartet
with Cash, Presley, and Jerry Lee Lewis and on The Trio Plus with Lewis, Charley Pride, and others.
Carl Perkins appeared in the 1985 film Into The Night and won the Grammy Hall of Fame Award in 1986 for Blue
Suede Shoes. He took his place in the Rock and Roll Hall of Fame in 1987. In later years, Carl suffered a series of
strokes. He died in his hometown of Jackson, Tennessee on January 19, 1998.
Carl Perkins Lyrics
Midi Collection
"Match Box" in Real Audio