NAT KING COLE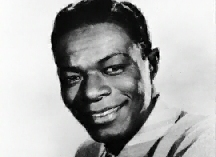 Cole, Nat King (1919-1965), American pianist and singer, one of the most advanced jazz
pianists of the 1940s and a leading popular singer of the 1950s and 1960s. Born Nathaniel Adams Coles in
Montgomery, Alabama, he grew up in Chicago, where pianist Earl Hines was a major influence. Cole formed
his first trio with guitarist Oscar Moore and bassist Wesley Prince in Los Angeles in 1937, where, during an
extended stay at the Sewanee Inn, he first began singing to vary the musical pace.
The trio (with Johnny Miller replacing Wesley Prince on bass) achieved its first major success in 1944 with
"Straighten Up and Fly Right." In 1946 Cole's recording of singer Mel Torme's "The Christmas Song" became a hit,
and in 1948 Cole achieved even greater success with "Nature Boy," which sold more than a million copies soon
after its release. His other hits include "Route 66" (1946), "Unforgettable" (1950), and "Mona Lisa" (1950), which
won an Academy Award in 1950 as the theme song for the movie Captain Carey, U.S.A. Although he achieved tremendous popularity as a singer, Cole received little recognition for his innovations as a pianist. As early as
1940 he regularly employed advanced chord voicings and harmonic substitutions that "bebop" innovators such as saxophonist Charlie Parker were just beginning to discover. Cole's melodic style can be seen as an important link
between swing and bebop. His 1956 album After Midnight showcases his creative abilities as a jazz pianist.