DION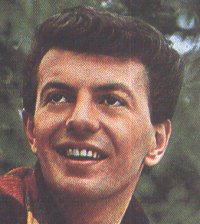 Dion Dimucci's streetwise doo-wop was Italian Americans' answer to the original black doo-wop groups.
He scored his two first hits, "A Teenager in Love" (1958) and "I Wonder Why" (1959), with vocal
backing by a group of his Bronx friends, the Belmonts. On his own, his hits continued: "Runaround Sue,"
"The Wanderer" (both 1962) and "Ruby Baby" (1963).
His career took a turn downward as his addiction to heroin worsened; he kicked his habit in 1968 and
recorded "Abraham, Martin and John", his last hit.
Since the '60s, Dion has dabbled in contemporary Christian music and recorded well-received comback
albums.

Dion Lyrics
Runaround Sue in Real Audio