EVERLY BROTHERS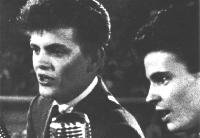 It all started in Kentucky, U.S.A. Isaac Donald (b.2/1/1937) and Phillip (b.1/19/1939) Everly were raised in a musical family,
steeped in one of the oldest musical traditions in America. The atmosphere of the coal mining towns of Kentucky and the songs which are the voice of the culture formed the Everly Brothers' sound which has endured for more than thirty years. Don and Phil are the sons of Ike and Margaret Everly, who, like their parents before them, were folk and country singers from central Kentucky. Their late father was one of the few "authentic" guitarists in American music. The influence of his thumb picking style can be heard in the music of players such as Merle Travis, Chet Atkins and Mark Knopfler. Soon after Don was born, Ike decided to leave the coal region and move to Chicago to pursue a career in music and find a
better life for his young family. After he had established himself as a professional entertainer, Phil was born, and Ike decided to take a job in Iowa where he could raise his boys in a healthier rural environment. He joined KMA, a powerful radio station in Shenandoah, Iowa, where he was a staff artist until 1951. It was during this time that Don and Phil began working with their mother and father on radio and on stage.
In 1953 the family moved to Knoxville, Tennessee, where they worked on WROL radio performing two shows per day and getting paid $ 90 per week. When the money ran out, Ike got in touch with Chet Atkins in Nashville. It wasn't long before Chet had one of Don's songs, "Thou Shalt Not Steal", recorded by Kitty Wells. It was a hit and the decision was
made to split up the family act and send the brothers to Nashville.
The going was rough for the first two years. Ike worked as a barber and Margaret as a beautician to help support the boys while they made the rounds of the record companies.
Don and Phil suffered repeated rejections by record executives who didn't know what to do with them. Finally, in February 1957, the Everly Brothers signed with Cadence Records, released "Bye Bye Love", sold over two million records, and began a career that established them as the most influential duo in the history of recorded music. As Bob Dylan said regarding Don and Phil, "We owe these guys everything. They started it all."
In June of 1957 they made their first appearance as regulars on the Grand Ole Opry in Nashville. They brought more than their innovative acoustic guitar rhythm and vocal blends to the stage of the old Ryman Auditorium. That night, Don and Phil were the first act to use drums on the Grand Ole Opry and to this day are given credit for introducing and developing the use of drums in Nashville. The traditional country audience loved them, but right from the beginning, the uniqueness of their sound made them popular on an international scale with a widespectrum of fans. Over the years their blend of
country, rock & roll,bluegrass and rockabilly has remained popular with pop, rock, country and R & B listeners simultaneously.
After "Bye Bye Love", the brothers turned out an incredible string of classic records, often having several on the charts at the same time. Their phenomenal output over the next five years included: "I Wonder If I Care As Much", "Claudette", "Bird Dog", "Devoted To You", "Problems", "Take A Message To Mary", "('Til) I Kissed You", "Let It Be Me", "When Will I Be Loved", "Cathy's Clown", "So Sad (To Watch Good Love Go Bad)", "Wake Up Little Susie", "All They Have To Do Is Dream", "Walk Right Back", "Ebony Eyes", "Temptation", "Crying In The Rain", and many more. For most of these titles Don and Phil received a gold record award.
In 1961 Don and Phil were called upon to fulfil their military service obligations. They decided to enlist in the Marine
Reserve and left the world of stardom to endure the rigors of basic training. To this day the Everly Brothers consider their training as Marines to be a pivotal positive experience in their formative years.
Through the 60's they continued to write, perform and record. Among their significant singles were "Gone, Gone, Gone", "The Price Of Love", "Love Is Strange" and "Bowling Green". In 1970 Don and Phil had their own highly rated T.V. show, "Johnny Cash Presents The Everly Brothers". The show gave them the opportunity to bring their father out of retirement to perform with them before a national audience.
Many artists and groups were influenced by Don and Phil Everly. To name but a few: Simon and Garfunkel, The Bellamy
Brothers, Peter and Gordon, The Mamas and Papas, The Searchers, The Hollies, ELO, The Lovin' Spoonful, Linda
Ronstadt, Brian Ferry, Queen, Status Quo, The Eagles, Crosby Stills Nash and Young, The Byrds and... The Beatles. Graham Nash: "The Everlys definitely influenced me. They were the main inspiration for me and almost everyone in rock 'n roll owes a great deal to them."
During the years from 1958 to 1973 numerous albums were released. Amongst them were: "Songs Our Daddy Taught Us", "The Fabulous Style Of The Everly Brothers", "It's Everly Time", "A Date With The Everly Brothers", "The Everly Brothers Sing Great Country Hits", "Gone Gone Gone", "Rock 'N Soul", "In Our Image" (including the hit "The Price Of Love"),
"Two Yanks In England", "Roots", "Stories We Could Tell", "Pass The Chicken And Listen" and others. More than half a million copies were sold of the albums "The Golden Hits Of The Everly Brothers" and "The Very Best Of The Everly Brothers", worth far over a million dollars each, which made them gold.
Since 1957 the Everly Brothers have performed in far over 700 cities in the USA andCanada. From 1959 to 1973 they toured the world, with regular tours in Great Britain. Other countries included in these tours were: France,
Luxembourg, Holland, Germany, Belgium, Australia, Sweden, Denmark, Italy, Norway, Austria, Finland, Ireland, Taiwan, Japan, Campuchea, New Zealand, Philippines, South Africa and South Vietnam. Their careers continued to go strong in the early 70's but the ravages of life in the spotlight began to wear them down. In 1973 the brothers decided to go their separate ways. Don moved back to Nashville and Phil stayed in Los Angeles. During their years apart the Everly Brothers pursued solo careers with significant success.
Interestingly, both worked mostly with country music. Don recorded several albums and hit the country chartswith his
recordings of "Yesterday Just Passed My Way Again" and "Brother Jukebox". Connie Smith made hits (again) of his
compositions "('Til) I Kissed You" and "So Sad". Meanwhile Phil also recorded albums and had a No. 1
song with Linda Ronstadt's version of "When Will I Be Loved". For this composition Phil won the BMI award in
1976. He was also on the country charts himself with "Dare To Dream Again" and "Sweet Southern Love".
In the early 80's Don and Phil decided that enough was enough and that they should work together again. On September 22 and 23, 1983, at the Royal Albert Hall in London, England, the Everly Brothers performed two historic concerts before thunderstruck capacity crowds. The reunion concert was released as a double album and aired around the world as an HBO cable television special.
In the years after the reunion, three significant Everly Brothers albums were released. Their comeback album, "EB '84", included their hit "On The Wings Of A Nightingale", written for them by Paul McCartney. In Holland they received gold record awards for both the album and the single in 1988. In 1986, the superb "Born Yesterday" was chosen by Time Magazine as one of the top ten pop albums of the year. In 1989 they released "Some Hearts", a self-produced innovative collection of ten songs which show the Everly Brothers are refusing to rest on their laurels. They still rock in the 90's, their fifth decade of recording.
In January 1986, Don and Phil were two of the original inductees into the Rock 'N Roll Hall Of Fame. Having sold far over 40 million records and having created a sound that is beyond fad and whims of the music industry, they were honoured as two artists who laid the foundation for an art form that created a cultural revolution. A few months later the Los Angeles Chamber of Commerce awarded the Brothers their very own star No. 1834 in the Walk Of Fame on Hollywood Boulevard.
As Chet Atkins said when introducing the Everly Brothers on his 1989 Cinemax Special, "They simply changed music for the whole world".
So these are the 90's for the Everly Brothers and the success continues. Don Everly had a No. 1 song with Reba McEntire's version of "Cathy's Clown". The composition won him the biggest BMI Award, the 22nd Robert J. Burton Award, as most-performed country song of 1990.
Still in demand worldwide, the Everlys tour six to eight months out of the year performing in venues reaching audiences fromEurope and Great Britain to Australia and North America. Each summer, they interrupt their touring schedule
to return to their ancestral homeland to give a benefit concert for the economically depressed coal mining community in Muhlenberg County, Kentucky. The yearly "The Everly Brothers' Homecoming Music Festival" concentrates on the distinctive vocal and instrumental styles that grew out of and reflect the cultural heritage of the region. Proceeds from the event go to the Everly Brothers' Foundation, a charity that provides aid for scholarships and community projects.
As of this writing, the boys are busy doing demos and writing songs for a new album. They are discussing a new recording deal with a couple of major labels. The recently released 4 CD Box Set called Heartaches and Harmonies, released by Rhino Records, gives a rather perfect view on the Everly Brothers' recording career. The future looks bright indeed for the Everly Brothers, and just as right for their millions of devoted fans.

Everly Brothers Lyrics
Midi Collection
Bye Bye Love in Real Audio