HERMAN'S HERMITS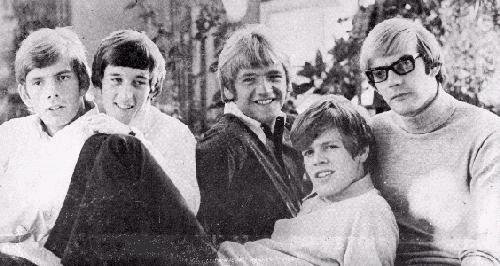 Formed in 1964 in Manchester, England
Disbanded in 1970
Styles - British Invasion, Merseybeat, Pop/Rock
Herman's Hermits began life in 1963 in Manchester, England, as the Heartbeats, the group consisting of Keith Hopwood (b. Oct 26, 1946, Manchester, England) (guitar), Karl Green (b. Jul 31, 1947, Salford, England) (guitar, harmonica), Derek Leckenby (b. May 14, 1945, Leeds, England) (guitar), and Barry Whitwam (b. Jul 21, 1946, Manchester, England) (drums). They got the name Herman's Hermits when they were joined by 16-year-old TV actor Peter Noone (b. Nov 5, 1947, Manchester) (vocals, piano, guitar), who was thought to resemble the Sherman character on the Rocky & Bullwinkle TV cartoon. Pop producer Mickie Most, induced to see the group by their managers, thought Noone looked like a
young John Kennedy and agreed to sign them. Most chose the group's material, from revamped oldies and pub songs
to tunes submitted by professional songwriters like Gerry Goffin and Carole King, and produced the recordings,
generally using Noone as singer and a group of studio musicians.
The result was two years of solid hits, starting with "I'm into Something Good," which topped the U.K. charts and broke the group in America. There were 11 Top Ten hits in the U.S. through 1967, among them the number one gold singles "Mrs. Brown You've Got a Lovely Daughter" and "I'm Henry VIII, I Am." Herman's Hermits had ten Top Ten hits in Britain through 1970. Inevitably, the group's teenage heartthrob appeal waned, and they never became the kind of self-sustaining musical unit that could outlive that initial infatuation. The group split in 1970, though it has re-formed,
with and without Noone, for oldies performances.
Herman's Hermits Lyrics
Midi Collection