ROY ORBISON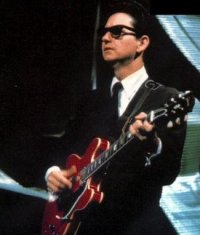 Roy Orbison possessed one of the great rock and roll voices: a forceful, operatic bel canto tenor
capable of dynamic crescendos. He sang heartbroken ballads and bluesy rockers alike, running up a
formidable hit streak in the early Sixties. From the release of "Only the Lonely" in 1960 to "Oh! Pretty
Woman," a span of four years, Orbison cracked the Top Ten nine times. Orbison's most memorable
performances were lovelorn melodramas, such as "Crying" and "It's Over," in which he emoted in a
brooding, tremulous voice. The melancholy in his songs resonated with listeners of all ages, but especially
heartsick teenagers who knew how it felt to lose in love.
A native Texas, Orbison saw his career take off at Sun Records, where he recorded rockabilly with his
group the Teen Kings and notched one minor hit ("Ooby Dooby," 1956). Moving to the Nashville-based
Monument label in 1960, Orbison settled on the somewhat formal but unrestrained style that carried him
through a string of unforgettable hits, including a pair - "Oh! Pretty Woman" and "Running Scared" - that
reached #1. Orbison could convincingly deliver harder-rocking material like "Candy Man" and "Mean
Woman Blues," but it was the ravishing despair of his laments that cemented his status as a rock and roll
original. A major star in Britain, he toured with the Beatles in 1963 and remained hugely popular there
well into the next decade.
Though his popularity at home had dimmed by the end of the Sixties, Orbison enjoyed a major
renaissance in the Eighties. He toured with the Eagles and recorded a Grammy-winning duet ("That
Lovin' You Feelin' Again") with Emmylou Harris in 1980; staged a successful comeback show in 1981;
and saw Van Halen record a hit version of "Oh! Pretty Woman" in 1982. But his return to the public eye
really began in earnest in 1987 with the taping of a tribute concert, featuring such disciples as Bruce
Springsteen and Elvis Costello, and his induction into the Rock and Roll Hall of Fame. That same year,
Orbison re-recorded some of his best-known songs for the CD market (In Dreams: The Greatest
Hits) and duetted with k.d. lang on a remake of "Crying." In 1988, he joined the casual supergroup the
Traveling Wilburys, which also included Bob Dylan, Tom Petty, Jeff Lynne and George Harrison. A
major comeback album, Mystery Girl, had been recorded and was awaiting release when Orbison
suddenly died of a heart attack on December 6, 1988. The well-received album included the
posthumous hit "You Got It" and went on to become the highest-charting album of his career.
Roy Orbison Lyrics
Midi Collection