RICHIE VALENS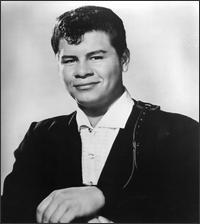 Ritchie Valens was rock-and-roll's first Chicano star, and managed to come up with some hit songs and leave his
mark before his tragic death at age 17.
Richie Valenzuela was born in 1941 in Pacoima, California, an area north of Los Angeles where he lived his entire
life. He learned to play a guitar and joined a group in high school, then met with Del-Fi record producer Bob Keane.
He recorded Come On, Let's Go and it almost made the top forty in 1958. Keane had recording equipment that was
not really state-of-the-art, and the equipment used by Valens in his brief career was not top notch, resulting in a
sound that is somewhat muddy but remains as very good vintage rock-and-roll. He wrote a song for a girl in whom
he was interested and named it for her; Donna was a smash nationwide hit and earned Ritchie an appearance on
Dick Clark's American Bandstand.
The flip side of Donna was his re-arrangement of an old standard from south of the border, La Bamba. It became a
top forty song itself and was the most influential song he ever did. Valens recorded a number of other songs for
Bob Keane, including Little Girl and That's My Little Susie, which made the top one hundred.
In early 1959 Ritchie Valens appeared in the film Go Johnny Go and a short time later left to join a group of
rock-and-roll performers who were scheduled to tour the Midwest. The group toured by bus but after one show, in
Clear Lake, Iowa, a plane was chartered to the next stop and Ritchie was invited to ride in the plane. Unfortunately
the plane had instrumentation problems and it crashed on February 3, 1959, killing Valens and the three other
occupants, Buddy Holly, J. P. Richardson [a.k.a. The Big Bopper], and pilot Roger Peterson.
Both Donna and La Bamba were still on the charts at the time of his death. Valens undoubtedly would have
contributed a great deal to pop music had he lived. A film titled La Bamba was made about his life in 1987.
Although parts of his life story are fictionalized in the film, it is an interesting motion picture and a tribute to a very
talented performer. The title track was recorded by Los Lobos and this time, the song reached number one.
Inscribed on Ritchie Valens' grave are the words "Come On, Let's Go."